"A great introduction to electricity and electronics for students, using real-world parts!"

Junior Genius Kits are built for experimentation, learning, and fun! Blinky Lights introduces students to electricity concepts in a series of fun, step-by-step experiments with reusable, real-world parts.

Concepts include: current, voltage, resistance, capacitance, parallel and series circuits, LEDs, transistor switches, oscillators, bi-stable circuits, and more.

A great stepping stone to other electronics projects, such as Arduino circuits and soldering kits.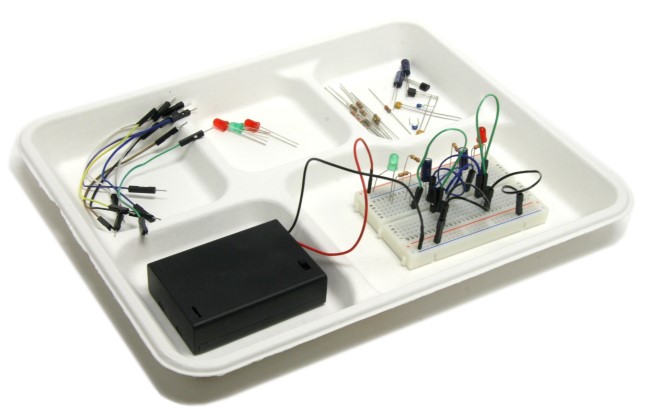 Blinky Light classroom kits available for 5, 12, 20 and 30 students at an affordable price!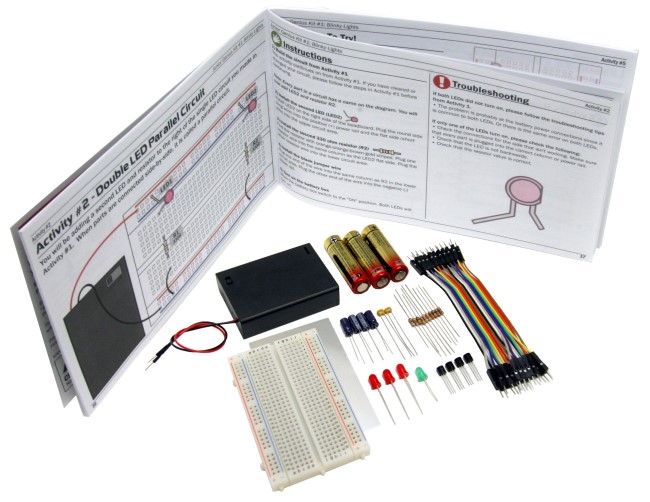 Everything you need is included...even the batteries!
An Inside Look...
Full-color illustrated 60-page Activity & Lesson book provides step-by-step instructions and explanations of how each circuit works.
10 core activities with over 45 additional 'Things To Try' experiments.
Students learn how to use a BB400™ BreadBoard to easily connect parts and experiment with circuits.
Includes 24 electronic parts plus wires, battery box, batteries and BB400™
The battery box with switch and breadboard pins is designed for classroom use.
Real World Parts
Students get experience using the same industry standard parts they will use in future projects (not simplified plastic blocks), giving valuable assembly and troubleshooting skills.
Basic Electronics Course
The Blinky Lights kit is a basic electronics course in a box. Dive into building each circuit with the easy-to-follow diagrams, then explore deeper to learn how it works and how to read schematic diagrams.
Reusable Again and Again
The breadboard allows parts to be removed and changed, and to be used again in new circuits. It's perfect for experimentation as no soldering is required.
Easily Replaceable Parts
Get replacement and expansion parts from BusBoard or at any electronic parts retailer. You aren't locked in with proprietary parts.
Online Circuit Simulator
Our simulator allows you to go beyond the guide and experiment with the circuits. See the flow of current change as you flip switches and make changes with many types of parts.
Teacher Resources
Reduce your lesson prep with resources that include all images found in the guide, printable diagrams and schematic sheets, ready-made PowerPoints and more.
Teacher Resources
We know you love teaching so we want to ensure you get to go what you love. Our Teacher Resources help cut down lesson prop time so that you can be an effective and prepared teacher. A Teacher Resources Access Card is included in the 20 and 30 classroom kit pack or can be purchased separately for the 5 or 12 classroom kit packs. The resources included with our kit are: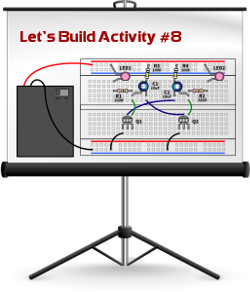 PowerPoint Files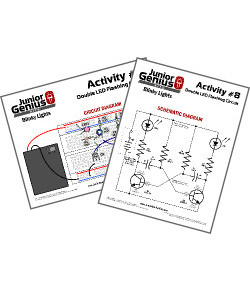 Printable Diagrams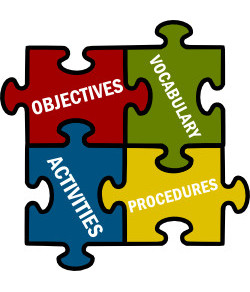 Lesson Ideas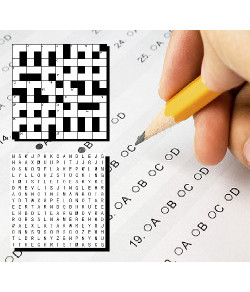 Quiz/Activity Sheets
For such a low cost, Blinky Lights provides great value;
combining high-quality parts with engaging and well-designed content.